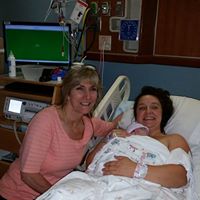 As I begin this entry, I want to mention that I just got a message telling me that my most recent client is on her way to L&D to have a baby - and I am SO excited!   I've been wanting to write this piece for quite a while, and now I am feeling very motivated! (although, I am not exactly sure where to start).
It seems that "Labor Stimulation Massage" is something many people are vaguely aware of, but I cannot overstate the "vagueness".  I actually did not believe it, until I started practicing it myself.   I wish I could just sit down and write, "This is what it is, and this is how it works".  Unfortunately however, it is not quite that simple.   But I will do my best to give you a clearer idea of what it is and what it is not.
First of all, I want to explain that I do not use the term "Labor Induction Massage".  I think it is too easily confused with the labor induction that is done in a hospital with pitocin, where you make an appointment and go in fully expecting to have your baby in arms when you go home.  We simply cannot guarantee an outcome like that.  And to be honest, there are cases where the pitocin does not work, and moms actually get sent home from the hospital to wait a little longer.  I don't believe any of us want a baby to be born before they are actually ready.  But there are cases and situations where we feel it would be more desirable if the baby were born sooner than later, such as the size of the baby, blood pressure issues, etc.  
That being said, I prefer to call the technique I do - "Labor Stimulation".   By working with the acupuncture pressure points, we are stimulating the production and release of the oxytocin - which is the natural hormone present in labor.  While the baby may get extra active as mom's abdominal muscles tighten, or contract, the actual outcome varies from pair to pair (mom/baby pair).    I was told during my training that if I used the technique as taught, the client would be in labor within 12 hours, so it is important  to be certain that she was at least 39 weeks and that the doctor was aware and onboard.  I have never had a doctor decline it.   Actual results have varied from client to client.  I can say, the technique has clearly started labor within 12 hours of seeing many of my clients.  But, as we all know - some labors are pretty quick and others are not.  I had one client that I worked on that had not any prior contractions, I stopped after an hour because the contractions were so strong - she was breathing through them.  I ended up driving her to the hospital 15 minutes later, and the baby was born an hour after we got there.  And then,  I have had a couple of clients actually contract for 10 days before finally giving birth, I know that is probably not the most desired outcome - but its IS an outcome.   I became pretty comfortable with telling people that I had never seen a client that we did not at least get some contractions started, and then I had one.   I don't remember what happened after she left the office, but while she was on the table we had some movement but no contractions.  Its things like that that keep us humble, and I no longer say "NEVER".
I typically do not promote the "Labor Stimulation",  just because I do believe the baby will be born when they are ready.  But, after working in the "Family Center" at the hospital for 8.5 years I am very familiar with the process.  The pregnancy will go so far and the Doctor will often start talking about a Pitocin Induction.  I have seen time and time again, the pitocin spur a pretty intense labor.  There just is not a "one size fits all" procedure, with guaranteed results when it comes to having a baby. 
I have had moms come to me for many various reasons, some were wanting to V-back, and of course we have to have the doctor onboard for that one.   Others had medical issues and the doctors started talking Pitocin and moms wanted to try something a little more natural first.  And now more and more, I am seeing Moms that just want to get things started naturally before the doctors start leaning toward and talking about induction.  I totally understand this, and am always happy to try to help.  I don't believe we are doing anything that can cause harm, with the "Labor Stimulation".   And I do feel that even when the baby is not born as soon as often hoped, the technique does get things moving and speeds up the process.   It is also common that if they do end up using pitocin during labor after a "Labor Stimulation Massage" they don't have to use as much. 
The actual technique consists of some essential oils, and working various acupuncture pressure points with acupressure.  I will often add some massage, to promote relaxation and and/or address some problem areas.  
I do hope this provides some better understanding for those who might be interested, for themselves or for someone else……
And I would really like to encourage any of you that I have already worked with to take a minute to say something on my Facebook page about your feelings on the "Labor Stimulation Massage", and how you think it may have helped you and your labor experience......... TYIA!